Sianginn kai pah darling ngeih/ miphun ca rianttuan kong, Student Union ngeih kan herh maw herh lo, international rian kan duh ah zeitin dah kan i timh lai timi pawl kong ah Salai Za Ceu Lian he biaruahnak kan ngei.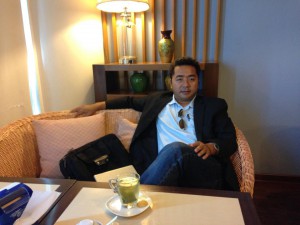 Salai Za Ceu Lian cu a hngalmi nan tampi lai tiah na ruah. Kanmah bantukin ralzaam dirhmun in Canada ah a phanmi a si. 2010 ah University of Toronto in M.A (Political Science) a rak dihmi a si. Atu lio Kawlram remdaihnak caah rian a ttuanmi Geneva-based international organization pakhat ah Senior Project Officer rian a ttuan. Nai ah Norway cozah nih an kawhmi training a rak kai lio ah Oslo ah kan I tong. Mino te a si, sianginn a kai lio zong ah siangngakchia le miphun lei cawlcanghnak ah a rak i tel tukmi a si, cacawn sianginn kai zong tha a pe tukmi caah siangngakchia ca hrim ah tiin biaruahnak kan rak hal.
1. Atu lio na rian ttuanmi na kan chim kho lai maw? 
ZCL: A tu lio a bik in ka ttuan mi cu kawlram remdaihnak an tuah mi ah an kaphnih in thazang a pe i a ttan pi tu organization a si mi Centre for Humanitarian Dialogue (HD Centre) ah Senior Project Officer ka ttuan. HD Centre hi kan headquarters cu Geneva ah a um. Kawlram mi ramleng ah sianginn a rak kai mi pawl cheukhat kha ramchung kan kir tthan hnu ah Myanmar Scholarship Alumini Association (MSAA) ti mi kan dirh i, kawlram parliament (Hlut-ttaw) ah biatak te in rian kan ttuan cuah mah. Mah MSAA ahcun a tu hi Vice-Chairperson ka si.
2. Chin Student Union (CSU) dirh hmasa bikmi pawl ah hruaitu hmasa bik na si, adang dang cawlcanghnak zong ah tampi naa tel. Siangngakchia si lio, ca cawn lio ah a leng lei bu le cawlcanghnak ah i tel len hi a ttha tiah na ruat maw? Tha na pe maw? Zei ruang ah? 
ZCL: Kei mah nih cun thazang ka pek ngai. Pakhat nak ah midang he rianttuan tti tik ah thiam a herh mi lungput le nun ziaza tam pi a kan cawn piak. Pahnihnak ah rian kan sawk tik ah si seh, scholarship kan sawk ah si seh, sianginn hmailei peh kan duh tik le sianginn ttha ah cacawn ding in kan sawk tik ah a biapi ngai in an zoh mi cu cacawn lawng si lo in a leng lei kan cawlcanghnak (extra-curricular activities) hi asi zungzal. Mah ban tuk cawlcanghnak ah kan i tel mi nih hin midang aa tel tum lo mi nak in dirhmun ttha deuh ah a kan chiah. Cun, mah ban tuk kan i tel mi nih hin University te hna ah kan cawn khawh lo mi fimnak a kan pek, kan miphun hna sining zong tampi a kan theih ter. A mah bel te nan cacawn mi hna nan hnawh ter i nan ca nan tei lem lo ahcun nan i tel lo a ttha fawn. Nan ca nan tei ko ahcun siangakchia cawlcangh nak ah i tel hrim uh tiah kan forh duh hna.
3. Sianginn ca, part-time rian/khrihfa bu/adangdang bu/kjæreste (laiholh in daaling), hi vialte hi tlamtling tein kemh khawh dih a si tiah na ruat maw? Zeitin dah caan kan cheuh hna ah a ttha bikk tiah na ruah?
ZCL: Mah tu hi cu kan mah le sining cio zoh thiam a herh. Kei mah zong sianginn full-time in ka rak kai lio ah zan ah part-time rian ka ttuan chih. Cun, biaknak lei zong ah si seh vawlei lei cawlcanghnak ah kaa rak i tel tthiamtthiam ko. Cu pin ah kawlram politics kong ka siaherh mi zong articles ka rak ttial tawn. Nain, ka cacawn mi a ka donh lo ding in kaa ralring. Nan cacawn mi tu kha pakhatnak ah nan chiah thiam i a leng lei nan i teltum mi pawl nih an dawnh hna lo tu kha nan thiam a herh mi cu asi.
4. Nangmah bantuk in international rian a duhmi siangngakchia nih zeibantuk in dah kan i timhtuah ah a tthat?
ZCL: A biapi bik mi cu kan mah pumpak tthanchonak caah i zuam hmasat kha a si ko. Pumpak tthanchonak cu fimthiamnak a kawl i ca a cawng mi nih kan mah le kan cawn mi subject cio ah lungsau te in i zuam le teimak kha kan herh. Cun, nan kai nak sianginn cio ah ramdangdang ah kal in chikhat rian va ttuan nak or ca va cawn nak tete si hna seh, a dang international organizations pawl tete ah internship opportunities tete zoh lengmang a ttha tuk.
5. Atu lio Kawlram nih hin zei bantuk cawnnak pawl dah a herh bik tiah na ruah? 
ZCL : Mah kong tu ah hin cun cawnnak phunkip le subject phunkip ah kan cawn hna hi a ttha tiah leh kan duh. Zei a si zong ah kei mah ka hmuh nak ahcun nan mah le nan huam bak mi subject (kongkau) nan cawn cio kha thazang ka pek bik ko. Kan huam lo mi le kan thiam lo mi subject hna kan ram nih a herh ruang ah ti i kan cawn sual ahcun kan sianginn hmanh dih ttha tthi lo in sianginn hna in kan i phuak nak tu ah a cang sual lai.
6. Student Union pawl hi zei ruang ah dah kan ngeih a herh tiah na ruah? 
ZCL : Pumpak pakhat nih kan tuah khawh lo mi kha a tu ban tuk in hmunkhat te ah rianttuantti ding in tiah Student Union te hna kan ngeih mi nih hin kanmah student pawl kan herh mi (student Causes) pawl kha ttha te in a kan tuan ter khawh. Kan mah kan Chin mi ca le bang ahcun kan um nak kip ah sianginn kai lio mi students pawl nih an herh bau mi theih ding tete kan i chim khawh lawng si lo in, kan miphun le kan ram caah kan ti khawh tawk in rianttuan khawh ve nak hna a chuah pi. Cun, vawleicung hruaitu tam pi hna hi mah ban tuk Student Union tete i aa rak i tel tum mi le a rak cawlcang ve mi lawng te an si.
7. CSU na rak ttuan lio ah a har na ti mi tete na kan chim kho lai maw? Mah thil harpawl (challenges) pawl cu zeitin dah nan rak tei dan a si? 
ZCL : Mah ban tuk hi cu a chan le a hmun zong nih lai a rel ve. Kan mah chan ah khan cun Chin mi chung ah lungrualnak a tlawm ngaingai (nang Falam, kei Hakha, kei Tedim ti ban tuk ruahnak hme tete nih khan rian kan i awt ka ahcun a tam ngai a rak kan donh). Nain a dongh nak ahcun lungrual te in a dongh tiang kan ttuan kho hna. Cun, ttuanman pek lo (salary) in ttuan mi a si tik ah rian kan i khinh mi tete kan tuah lo tik ah na ttuan deuh lo i ti awk zong kan i harh ngai hna. Rian kan i khinh mi tete tlamtling in kan tuah cio ah hin cun rianttuan a nuam tuk ve hoi. A bia pi bik mi cu student Union ah rianttuan ding in kaa pe ve lai a ti mi poah nih kan mah le kan rian cio tlamtling te in kan tuah kan ttuan ahcun rian hma a kal tuk. A pawi mi le donkhantu pakhat a si mi cu, rianttuantu si ve ding ah kan min aa tel cu kan duh ngai nain biatak ah zei hmanh a tuah huam ttung lo mi pawl hi a pawi ngai mi cu asi.
8. Kan Chin bu (biaknak lei he, biaknak lei-lo he ) pawl ah man phalh loin rian a ttuanmi caah thilhar bik an si tiah na ruahmi zei pawl dah an si? Zeitin dah hruaimi le hruaitu kan i bawmh khawh deuh hnga?
ZCL : Laimi caah rianttuan nak ah a har mi tampi a um tak ko. Phaisa hmuh in rian ttuan lo hlei ah thangtthat le thazang pek lei si lo in soiselnak le thangchiatnak te hna a um pah tawn mi hi asi. Mah ban tuk ttuanmah hmuh lo in tei a kan mak piak mi kan hruaitu hna hi an rianttuan mi a hman ko ahcun soisel nak tu hi cu kan tuah hna lo ah a ttha. Cun, holh rel lei le theih nak lei in kan chambau mi nih hin harnak tampi a kan pek. Bawmchantu ttha kan ngeih lo mi zong nih hin a chap chih hawi. Hruaitu le hruaimi kan i bawmh khawh deuh nak ding ahcun rianttuan ding kan i timh mi ah lungrual le teimak chuah cio kha a biapi mi asi ko. Biaknak lei a si zong vawlei lei a si zong ah bu pakhatkhat kan dirh tik ah timh mi le hlawhtlinh ding kan duh mi a um. Mah ban tuk kan tinh mi a hlawh a tlin nak ding ah a hlei in rianttuantu ding kan thim hna. Mah ban tuk in kan thim mi hna nih kan fial mi hna rian lungtho te in an cohlan ve ko ahcun hruaitu an ttuan chung ah a ttha bik in an i zuam ve ding asi. Kei mah ka chan ah a ttha bik in kaa zuam lai ti mi ruah nak he zeipoah an i zuam cio ahcun thil tampi hlawh a tlin lai pin ah, an hnu in a rak kai mi hna hruaitu thar hna ca zong ah zohchunh awk tlak an si lai. Cun, hruaimi na ti mi tu hi cu kan hruaitu hna nih rianttuan ding khua an khan mi ah kan ti khawh tawk te in thazang chuah ve in i pek ve ding kha asi. Phaisa lei in si seh, a dang dang lei in kan ti khawh nak kip in kan hruaitu hna khuakhan mi ah thazang rak chuah ve ding kha asi. Kan hruaitu hna an khuakhan mi aa dawh cah deuh lo mi hna a um cun, ralttha te in kan ruahnak le kan hmuh ning kan chim ngam ve ding zong kha a biapi.
9. Ramdang um Chin siangngakchia nih hin kan ram ummi Chin siangngakchia bawmh kan duh ah zei bantuk bawmhnak khi dah a tthahnem bik le a <practical> bikmi a si hnga tiah na ruah?
ZCL : Mah na hal mi te hi a biapi ngai nain, practical ngai in kan tuah khawh lo taktak mi asi. Sianghleirun bu (Student Union) hna kan tuah, hruaitu kan si chung ah pakhatkhat kan tuah mi kha kan hnu in a kan zul tu pawl nih an peh zulh lo tik ah a tu kan thawk mi rian kha a lak ah aa chuah lengmang. Zei poah si ah nan mah le hruaitu nan si lio te ah kawlram chung um mi sianghleirun bu hna he pehtlaihnak tuah kho hna uh law zei ban tuk dah nan ttan pi khawh hna lai ti mi hna kha hal ve hna uh. Kan mah lio ah khan ramchung um mi sianghleirun pawl itawnnak an tuah nak hna le cauk magazine te hna an chuah mi ah kan rak ttan pi ve hna. Cun, nan kai nak sianginn cio ah kawlram lei siangachiah pawl nih sianginn an rak peh khawh nak ding tete hna a um ahcun mah ban tuk pawl thawngpang tete kha ramchung um mi zong chim ve hna uh law ca an cawn nak ah teimak an chuah deuh nak ah bawmchantu zong a si ve.
10. San a tlaimi, khuaawng a pemmi, CSU pakhat ngeih khawh nakhnga zeidah an biapi tiah na ruah? Norway Chin Student Union chungtel vialte siseh, hruaitu zong siseh, kanmah le kanmah santlai tein kan i bawmh khawh nakhnga ruahnak rak kan cheu law kan i lawm ko hnga.
ZCL: Tuan ka chim bang in pumpak lawng nih nan tuah khawh lo mi kha Norway ram um mi sianghleirun vialte lungrual te in nan hun ttantti i Student Union hna nan dirh khawh mi hi a biapi tuk. Kan miphun nan dawt nan zawnruah zong asi. Kan miphun karlak ah a kaa kip in kan tthanchonak hnga caah lam nan sial pakhat zong asi. Biaruahnak tete tuah uh law Norway ram sianginn nan kai nak cio ah nan tawn mi tete i ruah hna uh, cun Norway ram education system a sining le University kai a duh mi hna nan nau le nih an theih a herh mi ruahnak tete pek khawh i zuam hna uh. Internet in bia nan i ruah khawh pin ah itawnnak hna zong tuah uh law siangakchia vialte sawm hna uh. Sianginn kai nak kong biatak te in thazang i pe uh, sianginn kai tik ah an duh mi field lei luh nak ding ah an herh mi tete le phaisa lei bawmhnak (financial aid) kong tete zong cawnpiak nak tuah uh. Kan mah zong Chin Student Union of North America (CSUNA) kan rak dirh i rian kan ttuan lio ahkhan, Chinmi karlak ah lungrualnak a um nak hnga kan ti khawh tawk kan rak ttang. Kan mino hna caah kan mah lei state cio ah information sharing tete le cawnpiaknak hna zong kan tuah. Cacawn thazang pe hna seh tiah mino hna caah lentecelh nak le concert te hna zong kan tuah piak hna. Mah kan tuah piak pah hna in heh tiah fimthiamnak cacawn hi thazang an pek nak hnga bia kan ruah hna. Ramchung um mi he zong kan rak i pehtlaih. Mah vial te kan tuah khawh nak ding ah fund kawl nak a phunphun kan tuah. Nan mah zong i zuam chin uh. Norway ram chung in hmailei kum 10 hrawng ah laimi University degree ttha te in a dih mi minung 500 hrawng rak chuak tuah uh law mah nih cun zeitluk in dah nan mah pumpak ca, nan chung khar ca le kan miphun ca tiang in bochanh awk tlak nan si lai i kan caah a ttha tuk hnga. Ca nan cawn tik tu ah nan mah le nan huam mi subject te kha rak cawng cio te uh ti mi zong kan cah duh hna. Thilttha na duh ahcun a fawi te in ka ngah lai ti mi ruahnak ngei sawh hlah uh. Lungsau te in le teimah chuah te in nan cawn cio mi subject ah i zuam hram uh. Ninikhat cu na hlawhtlin caan a phan te hrim lai.
—– 
A pumpak kong tam deuh hngalh a duhmi nih a tanglei interview pawl ah rel khawh a si.
The Chinland Post interview: http://tiphulrawn.weebly.com/inter…/salai-za-ceu-lian-le-tcp
Faiceu Interview
http://lungrawn.blogspot.no/…/salai-za-ceu-lian-he-itawnak-…
—–
Chin Student Union in Norway facebook page rak kan Like piak ve u! https://www.facebook.com/CSUNORWAY?fref=ts