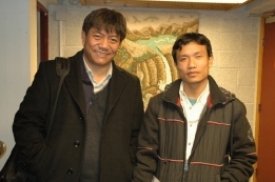 November 16, 2010 zanleisang ah Norway ah Stephen laksawng a rak la mi Pu Victor Biak Lian, Chin Community in Norway (CCN) in Peter Sang Lian Thang le Norwegian Mission to the east in minung pahnih hna cu Kristiansand ummi Gimlekollen Radio station ah lenkainak an va ngei.
Norway ummi Chinmi kong le Pu Victor Biak Lian laksawng lak i Norway a rak ratnak kong he pehtlai in CCN president Peter Sang Lian Thang cu Gimlekollen Radio nih interview an tuah. Radio interview ngaih duh ah cun a tanglei link ah ngaih khawh asi.
http://www.gimra.no/sider/hjem/aktuelt/kjemper-for-demokrati-i-burma/58/
http://www.gimra.no/pub/58/filer/GIM_Chin-integrering-BRUK.mp3
Hi Radio station hi kum 1982 ah an rak thawk cangmi asi. Kristiansand le ai naihbikmi khua, Søgne, Songdalen, Vennesla, Birkenes og Lillesand hna ah ngaih khawh an si.