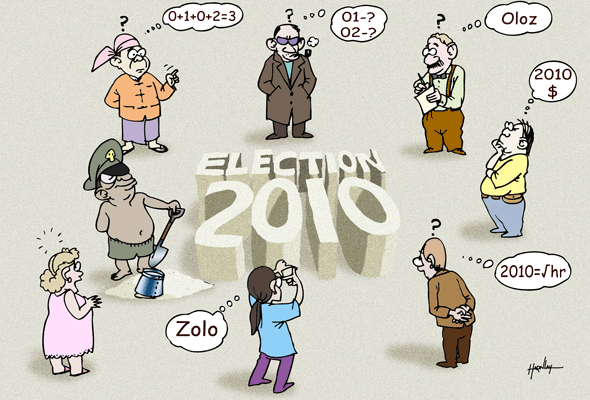 2010 donghlei ah election an tuah te lai tiah rak zumh cia a si nain, zeitik ni satahdah an tuah lai ti cu thawngthanhnak a um lo caah caan saulak rak hngah asi cangmi cu nihin lawng ah Burma 2010 election Commission Committee nih November 7 ah kan tuah lai ti thawngthanhnank an hun tuahmi kong thawngpang hmuntamnawn ah an hun tial cio.
Micheu nih rak tuakning ah pa hra lawngte ai tlarmi nithla 10.10.10 hi election ni caah an thim theo te lai ti hi a rak si. Fiangngai in rak ruah cio asimi pakhat cu, Pi Suu Kyi hi inn thawng ah November 15 tiang hren an timhtik ah cu hlan ah election an tuah te ko lai ti hi asi fawn. Tu nithla an thimmi number pa 7 zong hi vanthatnak lucky number an si lawng siloin, 11 thla number 11 zong hi number tuak a zummi hna nih an zumh ning ah "Ral pawl an tlau/lo" timi a langhtertu number asi tiah an ti (DVB).
Tulio ralkap lutlai Tan Shwe hi akong theih ngai asi mi cu, kuttial zoh, camhtuak a zumtukmi le ai bochantukmi minung asi ti asi fawn. Burma a hruai kum 20 deng akal cangmi ah amah thlauk in le vawleicung mifim hna thlauk le ruahnak peekmi in ram kha hruai loin camhtuak thiam hna nih an hmuhning in le amah kuttial zohnak menmen in ram a hruai ruang ah hitluk in ram le a minung hna nih harnak kan tuar asi ko ti hi ruahciomi cu asi. Hi bantuk in kuttial le camhtuak azumhtuk ruang ah a hna achetmi bantuk in le, mi zeirello a ral a tha ngai mi bantuk in a um nak hi asi.
May 29, 2008 ah referendum tuah in an fehter mi phunghrampi nih a kan chimhmi cu, parliament thudenh 440 sermi chung in 25% silole hmunhma 110 hi ralkap caah chiahpiak pacia an si. A taangmi 330 tu hi political party 40, tutiang ah register ai tuah cangmi hna zapi nih i cuhcio ding cu a si. Hi hmunhma 330 chung in anmah ralkap minung lila asimi Union Solidarity and Development Party (USDP) nih an i cuh ve lai caah tutan election hi cu, 1990 election lio bantuk in Ralkap nih kan sung ti lai loh tiah an i zumh cang. USDP hi hlanlio USDA (ciangh khaing ze) kha a min an thlen mi asi i lutlai pawl hi ralkap minung lawngte an rak si.
Theih cio bantuk in tulio Burma Prime Minister pa Thein Sein nih USDP cu a hruai hna, party leader asi. Hi nih tulio ah hehchet tiah mipi vote hmuhnak ding caah, an party ah member a lutmi hna kha lam an phahpiak hna, phaisa a kart tlawnte in an cawih hna. Anmah member cazin a lutmi hrim hi ram pum paluk ah million 25 fai kan si an ti tik ah, khuaruahhar ngai in thil ai thlen lo ah cun, anmah Ralkap nih parliament thudenh 25% lawng hmanh siloin tamdeuhpi an hmuh pin ah thimnak ah anmah an thling than lai ti hi zumh cio mi asi.
Cun NLD le Suu Kyi nih tu election hi mipi duhnak tein an tuahmi le zalawng tein tuahmi election asi lai lo ti a fian tuk caah kan lut lai loh tiah biakhiahnak an tuah cang i election commission sin ah register zong ah tuah duh lo. Cucaah NLD cu tukum May thla in Burma ram ah cun anungmi party asi tilo, chimduhmi cu, thimnak i cuh ve ding in pawmmi party asi ti lo. NLD nih election ah tello ding in thawng an thanh caah, election tampi ding /telve cio ding asi ko tiah timhnak a rak ngeimi buu hna le pumpak in ai rak i tim tukmi hna pawl an aar dih i, zeituahawk theiloin an um. Cheukhat ve nih cu NLD biakhiahnak kha thazang an hun pek colh ve.
NLD chung lila ah ruahnak ai cheu i National Democratic Force (NDF) min bunh in Khin Maung Swe le Dr. Than Nyein nih an hruai hna i an chuak i election ah tel ve ding in register zong an i tuah. 1990 election ah vote million 9 a rak hmumi NLD pi, nihin tiang ah ram dang nih an cawlcanghnak an cuanhmi hna ai then cu mipi lung a zawr pin ah tu Ralkap nih an tuah dingmi election kong ah midang nih ttanlakpi duhnak thinlung a zawr te ngaingai.Register ai tuah cangmi party 40 chung in an minung hna kha Agust 16 in 30 kar ah min cazin na kan pek dih lai tiah, Election commission nih election nithla an thanh pah in thawngthanhnak atuah chih.
Tu election dih in Burma ram cu, SPDC nih ralkap thuam in ukmi ram asi ti lai lo nain, anmah Ralkap nih duhpoh in thuai khawhmi ram a si rih ko lai ti cu an phunghrampi an suaimi nih fiang ngai in an kan chimh. Amin ah The Republic of the Union of Myanmar ti a hun si lai i President (ralkap chung in) kan ngei lai, Parliament thuhnak 440 chung ah 110 silole 25% hi ralkap nih an laak lai, tulio i state dirhmun angeimi kan min cu amah ning in State ti asi rih lai nain, Division rak ti mi kha Region tiah min thlenpiak an si lai (hihna pahnih hi an nawlngeihnak ai khat te lai), Burma khuapi cu an thlen cang bantuk in Nay Pyi Daw a si beh lai, ramchung ah duhnak langhternak (tulio kan duhmi federal system) tibantuk a chuah ah cun an phunghram ning in President (ralkap) nih a duh ning in nawlngeihnak le tlangtlaknak a ngeih rih lai caah tulio he kan ram thil sining tampi ai thleng ko lai nain a muro taktak (Ralkap lairelnak) cu amah kel a si ko lai ti hi zumhmi cu asi ko.