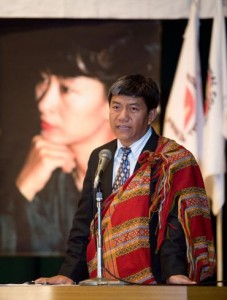 CHRO (Chin Human Right Organization), NRP (National Reconciliation Programme), ENC (Ethnic Nationalities Council) hna ah biapimi dirhmun in kum saupi a tuan cangmi kan Chin pasaltha Pu Victor Biak Lian, kum 45 cu, Norwegian Mission to the East timi Vawleicung Krifa pawl zalawnnak caah a tuan cuahmah mi buu pakhat nih October 6 ah Stefanus laksawng kan pek tiah thawngthanhnak an tuah. Victor Biak Lian cu anupi Pi Kuang Cin Par he fa pahnih an ngei i a tu hi Canada ram Ottawa khuapi ah khua a sami an si.
Norwegian Mission to the East (NMTE) cu Vawleicung Khrifami hna zalonnak/luatnak kan ngeih khawhnak caah -abikin nichuahlei vawleicung ram hna ah daihnak le, minung covo caah rian a ttuan cuahmah mi buu an si. Hi buu hi    Christian Solidarity Worldwide (CSW) he riantuantikhat partner zong an si. CSW cu mi tampi nih kan theih bantuk in Burma ram ah tlangcung mi hna- abikin krihfa mi hna nih biaknak lei zalawnnak kan ngeih lomi kong vawleicung thei in a au pengmi buu pakhat asi. Chinmi hna nih kan i ngeih chinmi CHRO zong he riantuan ti buu pakhat asi. Kanmah Chin mi kong zong ah report tamnawn an tial; "Unsafe State:  State-sanctioned sexual violence against Chin women in Burma ", cun kanmah Chinmi umnak India- Burma ramri, khual an tlawn i an hmuh tonmi report tete zong an um len rih. NMTE nih Vawleicung nichuahlei ram hna ah rian an tuanmi lak ah Burma, Indonesia le India tibantuk hna an si.
Hi Stefanu laksawng hi kum 2005 in pek rak thawkmi asi i, minung pathum an rak pek bal cang hna. Cuhnacu:
1. Bishop Thomas [Orthodosk Krifa hna nih Egypt ram ah daihnak zalawnak an hmuhnak caah] ( 2005)
2. Doan Trung Tin [Vietnam ramum krihfa mitlawndeuh hna caah arak tuanmi ] (2007)
3. Tim A. Peters [ North Korea refugee pawl caah rian a tuanmi asi ] (2008)
Adonghnak bik 2008 an pekmi Tim laksawng laklio ah hlanlio Norway Prime Minister Kjell Magne Bondevik cu laksawng petu ah an rak sawm. Laksawngpeknak puai lio ah Bondevik chimmi le amah laksawng hmutu Tim chimmi zong a lunglutmi nih hika ah rel khawh asi. Bondevik Tale og Tims Tale.
Tutan Pu Victor Biak Lian laksawng petu ding ah an sawmmi cu; Knut Vollebæk asi i amah hi Krf party member le  Prime Minister Bondevik a voikhatnak cozah 1997 – 2000 tiang Norway ramdanglei vuanci zong a rak tuan balmi asi. Kum  2007 hnu in miphun te hna caah High Commissioner ah The Organization for Security and Co-operation in Europe (OSCE) nih an thim.
Laksawng cu November 9 ah daihnak laksawng a pe tawnvemi buu pakhat a simi Fritt Ord zung a umnak address ah Uranienborgveien 2, 0258 Oslo pek ding asi i, Pu Victor cu anmah laksawng petu suaining in cun zarthnih chung Norway a caam lai i, hmunhma tamnawn ah biachimnak a ngei kho lai tiah thawng theih asi.
Stefanus ti cu, mirang silole Latin min in Stephen ti khi asi i Bible chung krifa hruaitu upa hmsa pakhat asi.  Krihfa zumhnak ruang ah hremnak  arak tuar hmasami pawl martyr in a thimi Krihfa minthang pakhat asi. Cu pa min cu tu daihnak laksawng hi an tuahmi asi.