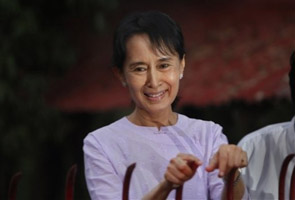 Burma thawngpang tialmi website hna lakah mi nih an relbikmi tiah chim khawh asimi The Irrawaddy nih Pi Suu Kyi a chuah deuh hlan tein, Pi Suu caah bia a duhmi nih cah khawh asi an ti i, an website chung ah comment tialnak te an on.
Cu comment tialnak ah a tialmi hi tuchun tiangah 3,000 leng an asi men lai tiah keimah pumpak in ka ruah.Ramchung lei in minih relngaimi thawngpang cahmai pakhat aum ve cucu, Eleven ti asi. Cuka zongah Pi Suu chuahnak kong le hi he ai pehtlaimi thawngpang tam nawn english le kawlca in an tial ve.
Burma ah Press Scrutiny and Registration Division (PSRD) timi tadinca le thawngpang tialnak le cauk dangdang chuah tik ah a kontrol tu hna buu pakhat aum. Hi nih ramchung ah tialmi ca pohpoh kha chuahnak nawl a pek lo ah cun chuah khawh an si tawn lo. Tutan Pi Suu chuah zongah ramchung tadinca le magazine pawl hna nih thawngpang tampi tial an duh, thawngpang cahmai a hmaibik ah Suu Kyi hmanthlak nganpipi hna in langhter an duh len ko nain, tuahnak nawl an pe hna lo ti asi.
Tial hlat uh ti tak cun an ti hna lo nain, nan tial tik ah upa pek tuk in nan tial lai lo, ahmanthlak nganpipi in nan taar lai lo an ti hna ti asi. Burma ram mirangca in tialmi Myanmar Time website hna ah cun hi thawngpang rel awk ka hmu lo, an tial lo asi men lai.
An tialmi tete ah mi lung asuk ngaimi ca tete an um len i, rel huammi caah tiah siaherhnak he, Laica in ka hun in lehpiak hna.
Ko Aung 21:
" Ka nun chungah nu pahnih ka ngei ee, ka nu pakhat cu a ka hringtu asi i, nangmah hi ka nu pakhat na si ve. Ahmasa ah cun Ralkap cozah hi a vih in ka rak fih hna, nain nangmah kum tampi a tuar taktak tu hmanh nih ka hua hna lo na ti, ka lung ai thleng cikcek, kai lawm tuk ee ka nu aw "
_____________________________________________________
#39 kakaKye:
" Pi Suu: Kawlram mipi pawl hi kanmah le kanmah lungsau thinfual tein kan i ngaithiam kho ko hna lo ma kha?
Mipi: Asi ko
Pi Suu: Biatak te maw?
Mipi: Biatak
Pi Suu: Asi taktak ah cun kan vun try tuah lai cu
Mipi: Vun kan try ko !
Pi Suu: "Hika lei ka hmai i a thumi hna vialte cu ka aw tha tein zeimawzat thut buu in an ngeih khawh cang, hnulei thumi le a kamlei ummi hna an dir nak asau ngai cang, mah tluk in kan lungsau zawnruahnak kan ngeih ko asi ah cun, hmailei ummi nih hmunhma vun kian hna u law, a hnulei pawl kha hika leiah ra ve hna seh."
tiah a hun ti vialah khin, mipi thawng tampi asi mi mibuu cu duak tiah an tho hna i, hmunhma cu an hun pek thluahmah hna ko, khua ruahhar taktak asi ko !
Hihi pei hruaitu tha kan timi cu asi cu! Meithal in hmuhchih in na tuah lo ah cun, cuti na ti lo ah cun tiah au hranhnawh len hnu lawng ah mi a fial kho mi cu hruaitu an si bal lo. Kai lawm tuk, upatnak zong ka ngei tuk hringhran ee !
________________________________________________
Mirang pa pakhat ( Bristish) tiah ai timi pa nih a hun tial ve mi pakhat cu;
" 1. Nangmah thil ti khawhnak/ruahnak lawng nih an dawlh hlah seh
2. Ka dik/hman peng tiah i rauh hlah
3. Thil teimi ram ca riantuantu hna nih an i tlaihbikmi cu biaruahnak ngeih le hnatlaknak tuah khawh hi asi.
4. An raltu hna hi mithmai chiatter aduh lomi an si, mah le mah i zumhnak chambaumi an si
5. thil ti khawhnak cu hlen a hmang, cucaah teinak a chuahpi lai tiah i bochan tuk ding asi lo. Ral nak in hawikawm tamdeuh pi ngeih i zuam, Burma ah thil ti khomi hawikawm nganpipi na ngeih a herh.
6. Zeibantuk ram ca riantuanmi hmanh nih mipi cungah azungzal in lungtluan ter khawh asi lo, a try zong try ding asi lem lo.
7. Kawlram minung hna hi tulio teah cun an thin a linh lio te asi, hnudeuh ah cun an hun dai deuh than te lai, duhsah le neem tein daihter i tim hna
8. mi lunglut poh ah a tha tiah zum hlah; nang cu vaanmi na si lo, ralthatukmi nuu zong na si lo. Minung menmen na si. Na thazaang dernak le na chambaunak kha theih khawh peng i zuam
9. Burma ralbawi pawl an i timhmi cu, an thutnak cung in tum lo kha asi ko, anmah lei in an nin herh ve bantuk in nangmah zong nih hi hna hi na herh ve mi hna an si.
10. Burma ram ah tlangcungmi hna nih hrimnaam an i tlaih i anmah le anmah an i remlo do chung poh ah cun daihnak le zalonnak timi hi a um kho ding asi lo. Zeiruangahdah Ralkap nih an nin thlah tiah cun, hriamnam tlaimi hna buainak kong ah remnak daihnak a tuantu ding ah an in thlahmi asi hih.
11. Tuluk kha va zum hna hlah !
"